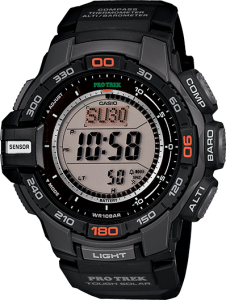 An accurate timepiece while out on the hills and wilds is one of my personal kit essentials.
Having a watch that can provide more than just a measurement of time is a bonus and that is why for the past 18 months I have been using the Casio ProTrek PRG270.
The ProTrek is a rather chunky watch due to it's tough plastic resin case that measures 54.6 by 14.4mm but despite the dimensions the watch only weighs in at 67g which is good for a watch of this sort plus it is water resistant to 100m which is great.
The ProTrek has been designed for prolonged outdoor use and offers a number of features to help support it's user including a digital compass, altimeter, barometer and a thermometer. These features are on top of the normal digital watch features such as world time, chronograph, countdown timer, alarm, perpetual calendar, sunrise and sunset timings which are the norm these days. The  tech used by the ProTrek is based on Casio's popular V3 Triple Sensor technology.
Solar powered but not under powered
The ProTrek PRG270  is solar powered and at first I was a little cautious about  it as my previous encounters with solar powered devices has been negative but with this watch I don't have to worry. The PRG270 uses Casio's "Tough Solar" technology to provide power to the watch in even low light conditions. The watch indicates when it running low on power but in all the time I have used it I have never has any issue despite using the screen illumination often while out in the dark woods.
The digital compass
The compass can be calibrated easily allowing you to correct any errors that may of affected the sensor and has proven to be reasonably accurate. It would not serve as a primary negation tool but as a emergency back up and something to be used for a quick reference it works well.
The altimeter
The altimeter again is easy to calibrate and it is something you should do before venturing out. You can use known height markers to set the altimeter such trig points (http://trigpointing.uk/) or GPS waypoints (http://www.haroldstreet.org.uk/trigpoints/).
The altimeter is a good reference tool to have especially when on the hills if you want to able to confirm your position if your map reading has gone slightly astray. I have found it to be both accurate and reliable.
The barometer
For those of you who listen to the Sumo Survival Bushcraft Podcast  you will already know that I am in the middle of weather forecasting course and the barometer is one of the tools I use a lot to predict change in the local weather conditions.
The barometer is really quite accurate for a wrist mounted device and it has proven to be valuable for both in my studies and while on the Scottish hills. The watch also features an alarm that can signal a rapid rise or fall in barometric pressure which is ideal for indicating an imminent weather change.
The thermometer
The thermometer is a bit of a disappointment as it does tend to measure changes in temperature slowly but it does function. When used in conjunction with the readings taken from the barometer it helps give a more accurate picture of the conditions ahead.
Verdict
Casio have released updated versions of the watch recently but  if you are looking for a good performer at a fraction of the price then the PRG270 should be your first stop. It is one tough bit of kit and the first watch that I am happy to give Sumo Approved status.