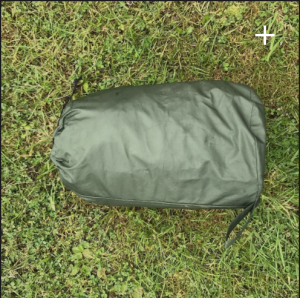 Sleeping outside while keeping your pack light is a problem that many of us have had.
How do you take enough kit with you to allow you sleep in comfort but avoid having to carry a heavy tent?
Well-known UK outdoor manufacturer Highlander has produced an integrated sleep system that aims to solve this problem.
The Dragon's Egg Sleep System is a combination of bivi bag and inflatable sleeping mat and is aimed for the outdoor user who wants to keep their pack light but sleep out in comfort.
Highlander supplied this system to us in October 2016 and I have been testing this bag from winter through to summer 2017 and it has been used in differing weather conditions and locations – so what do I think of it?
The Bivi Bag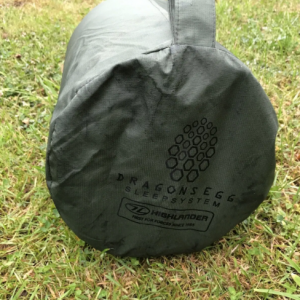 The bivi bag element of the solution is made of a olive green AB-Tex fabric which is both hardwearing (rip-stop) and waterproof. The fabric has a hydrostatic head rating of 5000mm which is ideal for use in the UK's climate throughout most of the year and it is fairly breathable.
The seams are well taped and the construction overall is excellent. The bag has a drawcord hood which closes up fairly tight which is good especially in poor weather. It doesn't close fully which is an important safety feature that cheap bivi bags often overlook. A bivi bag has to have sufficient airflow through it to reduce condensation and to prevent suffocation of the occupant.
There is a two way waterproof half length zip along the edge of the bag to allow the opening of the bag to expand to allow ease of access. The zip is a little light in construction and it is slightly awkward to locate and use in the dark so a torch is a essential when camping out in the darker months. It also struggles in low temperatures and tends to stick but I found running some vaseline along the zip solves this issue.
The Mat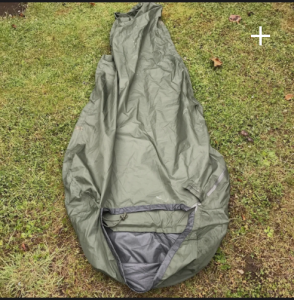 The mat is of the self-inflating variety and is 3/4 length to cut down on bulk. The mat slips into a pocket within the bivi bag and can be can be easily removed for cleaning or maintenance.
When the valve is opened, the mat does inflate fairly well on it's own but you can add your own puff to get it to the inflation level that you find comfortable. Deflating is fairly simple and is just a case of opening the valve and rolling up the mat squeezing out the air as you go.
In use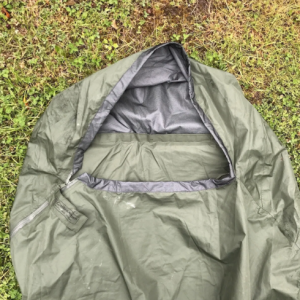 The Dragon's Egg Sleep System is best used with a basha/tarp setup in very wet weather. The system works well with a light weight sleeping bag and the level of condensation that builds up between the bag and the bivi shell is light so your bag isn't going to be totally soaked in the morning so that avoids adding to your pack's weight.
Used without a sleeping bag, the system is very windproof and can keep you fairly warm in the spring and summer months although you have to make sure you keep the hood fairly open (if weather permits) and the zip partially open to prevent condensation build up otherwise you will be soggy in the morning (this is why the zip is two way).
The system is generous in both width and length so you can move fairly well when inside which is good for those of you who struggle to sleep on your back all night.
The system packs down into the supplied stuff bag. The system measures 29x19x19cm and weighs 1650 grams when packed which is fairly bulky when compared to other bivi bag type systems but you have to remember that you are getting a integrated sleeping mat as well in this pack. There are no compression straps on the bag to reduce the bulk but I think it may damage the sleeping mat if you were to use one.
Verdict
There are few things I would like Highlander to consider in future versions of the Dragon's Egg Sleep System.
First I would like to have the zip upgraded to something bit more substantial and easier to operate in the dark and with gloves on. Secondly I think that the valve could be redesigned as it tends to jam either open or closed and takes a little bit of persuasion to operate in low temperatures.
Overall having used the Dragon's Egg Sleep System numerous times in both adverse and good weather conditions across multiple seasons and in a variety of different landscapes, I think it is a well designed and comfortable sleeping solution for the person wishing to travel with minimum kit without breaking the bank. Well done Highlander!