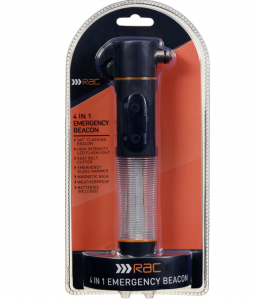 When heading out in to the wild hills or honing your bushcraft skills in the woods, it is always advisable to carry some kind of signaling device in your pack just in case your day turns sour and you need some help.
The Personal Breakdown Warning and Hazard Light from the RAC is ideal for use as an emergency beacon and warning light for not only road users but outdoors enthusiasts as well.
The unit can give up to 1km of visibility at night, has nine different flash modes and is and fully rechargeable too so there's no need for batteries. I tend to avoid rechargeable kit in the field but I have to admit that in this instance, it works really well and the device holds it's charge well for weeks even at low temperatures.
Getting in to an emergency situation at night can be a scary experience so, in order to make it easy for a rescue service to locate you, high visibility is essential and that's where a hazard and warning light like this can be invaluable.
Flexible and waterproof…
This unit provides a highly visible warning beacon that can be attached to your vehicle, hung from a nearby fence or tree or even attached to your pack.
Note: A 360 degree amber flashing lamp may be legally attached to a vehicle, and used "at the scene of an emergency or where it is necessary or desirable to warn persons of the presence of the vehicle or hazard on the road" under existing provisions of the Road Vehicle Lighting Regulations (1989).
The light emitted from the unit is stated to be visible from up to 1km at night which, after I had field tested the unit at night on both the hills and in the local woodlands, I can easily believe. The unit is waterproof (it floats as well) so it can be safely used in the rain and even crushproof which I proved when 'accidentally' stepping on it several times when testing it.
So what do I think?
Although this unit is not as effective as a signal flare or a maritime strobe, it still has a lot to offer to the outdoor community. The quality of production is very good and it certainly is rugged even to take a tumble or two. The unit can hold a charge for a reasonable number of weeks without any issues although I do wonder how long this will be the case but in general I have to say that it is well worth the price and I will be carrying it with me as part of my safety kit for long as it lasts.