A Hammock for all Occasions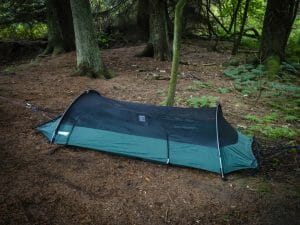 If you're a regular on SumoSurvival you may have seen the hammock video where Sean and I tested the iconic Hennessy Hammocks.  One thing I found which is quite fundamental with a hammock for camping is I could not sleep in one!  I love laying around in them, especially in the woods but when it comes to getting some shut eye I found I actually prefer to sleep on my front.
All is not lost though…enter the Blue Ridge Camping Hammock by Lawson Hammock.
So the best bit about this is you can use it as a bivvy as well as a hammock.  In fact its that easy I simply laid around in it during the day then when sleepy time cam I just lowered the tree huggers to the deck..instant bivvy!  This hammock is really versatile in that you no longer need to worry about finding tree's, if you find them its a bonus, if you don't then simply bivvy.  If you're a backpacker or motorcyclist then I feel this is a fundamental piece of kit.  It's light weight at about 1.6kg, the roll is of a good size to strap to your bergen, you can even roll you kit mat on the outside.
The hammock is made from light weight materials, aluminium, polyester and nylon.  It comes in a nice forest friendly green.  Unfortunately you have to buy the tree huggers and carabiners separately.  If you've got access to a sewing machine then I recommend buying some 1″ webbing strap and some thick thread to make your own tree huggers.  For the carabiners if you're not climbing off them then get some second hand ones from eBay.
I really love the room this hammock provides, there is plenty room for me and my bergen.  The arched poles allow for plenty breathing space so you don't feel claustrophobic in any way.  I recommend if you're a big fella putting some guy ropes in the eyes provided when using as a hammock.  This prevents any accidental rollover incidents which if you're like me and have the grace of an elephant in a tutu is a necessity.
This is a well made and well thought out piece of kit and I am happy to award it the Sumo Seal of Approval, well done Lawson Hammocks!