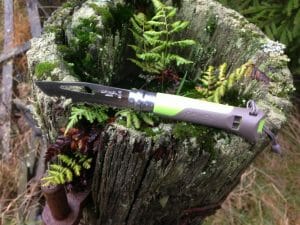 The No.8 is one of the latest offerings from world claimed knife makers Opinel. The French manufacturer has been producing knives since 1890 and has a reputation for excellence across Europe.
The No. 8 sees the company modernise and enhance their well known folding knife design into a knife that offers more to the outdoors market so is it any good?
The Blade
The 2.5mm thick stainless steel blade measures 85mm long with around half of the length taken up with chisel ground type serrations. The main edge arrives almost razor sharp straight out of the box which is something you can expect from the majority of the knives produced by Opinel.
The serrated edge is designed for cutting rope which indicates that that this knife is aimed towards the climbing market. The serrations on our knife were very dull and we had to give them a dressing up before they were to be effective but we have heard from other owners that this may of been just our knife that suffered from this. Once we have polished up the edges, the serrations performed very well.
Shackle Key
The blade also features a shackle key capable of taking 4mm to 10mm shackles (depending on make and design) which again indicates that that this knife is aimed towards the climbing market. I personally don't like this feature as it can be potentially dangerous as if you are loosening a tight shackle in the cold and wet there is potential for it to slip and the sharpened edge could easily cause harm. Use this feature with caution.
Locking Mechanism
The blade is is secured opened and closed by means of the traditional Opinel method of using a stainless steel "Virobloc" locking collar. As a locking mechanism it is hard to fault it's effectiveness and simplicity. The only downside to the Virobloc system it is that is can be tricky to operate with gloves on in wet conditions making the knife blade slow to deploy.
Handle
The handle has been produced in one piece from a very hard wearing plastic which is viable in a range of different colour schemes most of which are of high contrast which is good for easy location. The plastic could benefit from having some form of texture in it's surface it is a little too smooth but it is not a big issue.
Towards the end of the handle there a small lanyard hole. This hole is slightly too small for treading paracord through and is instead supplied with a small loop which I advise owners replace as it is a little flimsy in nature.
Emergency Whistle
One feature that is included in the handle is a emergency whistle which is a nice feature. Opinel claim that it can reach 110dB and that is pretty close to what we managed to blast out of it which was around 100dB. This compares well with some of the leading standalone emergency whistles available on the market.
Performance
The No.8 in the field performs well as a bushcraft tool. It is tough and durable enough to take on most tasks. The only thing that lets it down is the amount of space given to the serrations which means that you constantly have to take them into consideration when you are using the blade. The blade keeps it's edge well and only needs the occasional stropping to maintain it. The whistle is prone to getting blocked with pocket lint and mud and can be tricky to unblock. One thing we were asked after our mid-test video review was if the knife could be used with a fire steel and the answer to this is yes it can and pretty well.
Verdict
After testing this knife over four months I have found it to be reliable and effective and one that should be considered by climbers and bushcrafters alike which looking for a locking folding knife capable of most tasks.