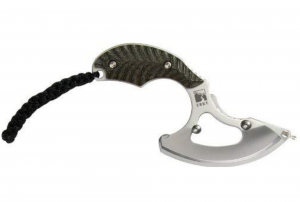 The Flavio Ikoma designed CRKT Keydashi is something that will confuse many but it shouldn't be discounted when looking for a small utility knife.
When I initially saw the Keydashi on the Heinnie Haynes website I was among the confused but at a small price tag I thought I would give it a shot and see what this unusual blade has to offer the bushcrafter.
The Blade
The skeleton frame is actually a full tang piece of high-carbon 1.4116 stainless steel. The 50mm blade is hollow ground only on one side (right) and takes the form of a curved skinner. The blade is approximately 2.5mm thick and has been treated with a nice bead-blast finish.
The Keydashi arrives already sharpened and ready to go which is the norm for CRKT. The FRN handle scales are well shaped and provide good grip even in the wet and cold. The small braided tie also helps in gripping and controlling the blade.
The Sheath
Not content on making a strangely shaped knife, Brazilian designer Flavio has departed from the traditional sheath and opted for something that is very unique.
The stainless steel sheath plate locks against the negative side of the blade and safely seats the blade edge away from damage to both itself and yourself. Apparently CRKT say that the sheath plate can be used as a bottle opener but to be honest I struggled to do this due to its small size.
In Use
After 3 months of use I have to say that CRKT Keydashi has surprised me. Despite it's small size and unusual shape the knife is really very comfortable in the hand and very easy to control. It has proven itself to be very good for skinning small game and is useful for many small tasks around the camp.
Sharpening the chisel-like edge is fairly straight forward and the size and shape of the Keydashi lends itself well to being stropped. I have found that it has kept it's edge well even after heavy use.
Conclusion
Even after my initial doubts, I think that the CRKT Keydashi is a really effective small knife and through clever design lends itself to many different bushcraft uses. The sheath is a brilliant and quirky design and easy to use once you have figured it out. The knife was originally being sold for just under £60 which I don't think is realistic but I bought this one from Heinnie Haynes for only £14.95 which is far more reasonable price tag for it.
I think it is a great and unusual little piece, a steal at the price it is being offered at and something that will certainly get your bushcraft friends talking when they see it.