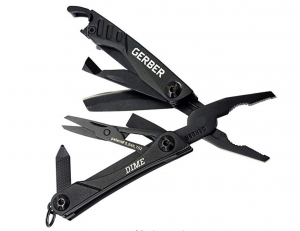 A multi-tool is a useful tool have with you when out in the wilds or while at work.
Unfortunately most multi-tools are often too bulky and heavy to carry with you everyday.
Step forward the Gerber Dime – a micro tool which is aimed at the occasional user who wants the flexibility of a multi-tool but not the bulk of a full blown option.
Gerber Dime
The Gerber Dime is a very compact tool that, although it weighs very little, packs a punch. The Dime features 10 fully functional tools within its small frame and these include :
Pliers
Wire Cutter
Bottle Opener
Tweezers
Non-locking Blade
Spring-loaded Scissors
Flathead Screwdriver
Crosshead Driver
File
Packet Opener
The build quality is superb with the main body and tool being constructed from stainless steel making it a tough little unit that can survive a fair bit of abuse while still being capable of performing it's intended tasks.
The tool is available in both a satin black finish and a more colourful option. I opted for the blackened finish as it is more discreet especially in a work environment. The tool has a ring mount for attaching to a lanyard or keyring but I decided to use that for a paracord pull instead.
In Use
In general use the tools featured in the Dime are fairly good. The pliers and wire cutters performed just as well as it's larger cousins when used for lighter tasks.
The scissors are surprisingly good despite their size. They aren't as good as the pair you would find on a Victorinox SAK but they are still capable of many tasks and they have kept their edge well.
The non-locking blade is small and keeps an edge well. The blade itself is fairly short measuring in at only 35mm long but has proven to be useful for many in-camp tasks. It is not a blade I would suggest you would use for heavy tasks but it is quite good for food preparation, kit maintenance etc.
The two screwdrivers are fairly basic in form and I have found that they were useful when in the workplace. The file features both rough and fine sides and I have to admit that I have seldom had to use it but it is handy to have in the tool.
The bottle opener is another tool I have seldom used but again is a good addition and the way Gerber incorporated it into the body is well executed. The tweezers are located inside the body itself and easily slide out for use. They are another nice addition to the tool and I have had to use them quite a few times.
The
packet opener is something I haven't had the need for and I think it's design is pretty poor in comparison to the rest of the tools within the Dime. I think that Gerber should of perhaps featured a saw or can opener instead as I feel wither one would be more useful for more people.
Despite the Dime having been used fairly heavily over the past 12 months the tool remains in good order and the tools remain tight and functional.
Summary
When I first received the Dime I did initially think that it may be a gimmick rather than a useful tool but after a year of using the tool for both bushcraft and work tasks, I have to admit it is a good and useful piece of EDC kit. If you are looking for something you can keep in your pocket and won't take up too much room while still being an effective tool then the Gerber Dime is well worth looking at.