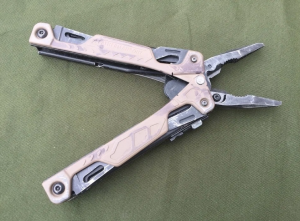 A good friend of Sumo Survival and serving soldier, Steven Jack, brings us a review of the Leatherman OHT Muli-tool.
I was given my OHT by Sean some years ago prior to my first deployment to Afghanistan and I am very happy he did. Both it and I survived in one piece although I admit we are both slightly rougher around the edges these days!
The Leatherman OHT was designed for use by the military and as such is very simple in design and function and is based around the pliers like most Leatherman tools except in this case the pliers do not fold away.
The Pliers
The pliers slide into the body of the tool enabling them to be deployed easily with one hand. This does take a little practice to perfect but once you have sussed it out you can quickly flick the pliers out ready for use. When not in use the pliers can be locked in the closed position which is essential as they do slide open when stored in a loose pocket or pouch. The locking mechanism is small and can't easily be used when wearing gloves which has been annoying but is only a small issue.
Deployment aside, the pliers are pretty much what you would expect from Leatherman and work very well although the replaceable wire cutting jaws have had to be replaced twice since I have owned it. I am not sure that Leatherman have used quite the right material for these inserts as they seem too soft for purpose. The inserts are easy enough to obtain on the web and come in around £10-15 per set but make sure you buy the genuine article as the copies don't fit the OHT well and move even when tightened up fully.
The Tools
Knife Blade: The blade is designed along the standard Leatherman lines with the grind profile making it really easy to sharpen in the field. My blade served me well but a few of my mates who owned the MUT, which is another tool Leatherman designed for the military, suffered breakages in their blades which is strange as they on the surface appear to be the same blade. It can be easily deployed with gloves on which is a bonus for a infantryman these days.
Serrated
Blade:
 The serrated edged blade saw a fair bit of use cutting rope and tethers and kept its edge for about 3 months and after that I had a struggle to bring the edge back up. I found using the rat tail sharpener on the Lansky Blade Medic (a good bit of kit in itself) helped but it was a constant struggle to keep it sharp when on post.
Phillips Screwdriver: This is really pointless for anyone serving in the British Forces as it does not seem to work at all well with any of our kit and I would of thought that Leatherman would have designed something more effective by now.
Large Screwdriver: This was used often in my vehicle almost on a hourly basis. Tough and works well.
Small Screwdriver: Again this saw a lot of use and is still straight which apparently is rare according to other OHT and MUT owners as theirs twisted. I think that if you are careful about what use you put it to it should work well and last fine.
Strap Cutter: I never used this for it's intended purpose thankfully and often used it instead for opening food packaging. Well designed and very sharp and I imagine it would do a good job if called upon in an emergency. It also features a oxygen tank wrench in its design which something I could see no use for but I suppose there may be guys out there that need to have one at hand.
Can/Bottle Opener: Nothing special and did the job on the rare occasion I needed it.
Saw: The saw is great and was used often on my deployment. The teeth are very sharp and have kept their edge well.
Cleaning Rod Mount: This is simply a threaded hole to allow you to attach a M16 type cleaning rod (#8-32) to the OHT. This is not a feature many of us serving in the British Army will ever need but I can see it possibly being of use to our American cousins.
The Finish
My OHT was finished in coyote brown on the main faces and the rest was treated with a matt black coating. Both coatings can take a knock or two with the facings standing up better to wear and tear than the black coating which hasn't lasted too well in comparison as you can see from the photos shown here.
Verdict
The Leatherman OHT served me well while in Afghanistan and I am sure it will serve me well for years to come but it does have a few issues. The locking mechanisms for each of the tools can be tricky to disengage especially when wearing gloves which is annoying especially as Leatherman obviously thought about gloves when deploying the tools. I think if they had widened the mechanism slightly then this would not be a issue. I often have had to stow the tool away with a tool still deployed as it was too much of a hassle to remove a glove and sort it out while patrolling.
The only addition I would have liked to have is a pair of scissors as these are one of the things I see as being an essential for an infantryman in a tool of this kind (the MUT has scissors). I may adapt the tool to incorporate scissors by replacing the strap cutter and phillips screwdriver both of which I have little use for and would not be missed.
In general I think the OHT is a good option for the soldier looking for a multi-tool that will do the job but if you want a bit more in terms of tools then opt for the MUT  but bear in mind that it does. seem to have an issue with it's knife blade. I would like to thank Sean again for gifting this tool to me and it certainly made my life easier in tough surroundings.